Articles
Ryan talks Republican role in a divided government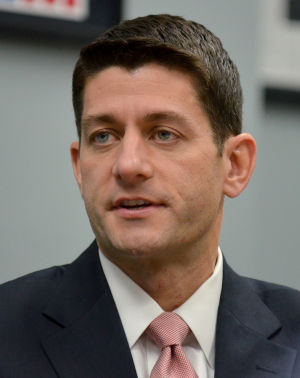 BY ALISON BAUTER, Racine Journal Times
RACINE — Republicans couldn't capture the majority in November's national elections, and now they're left to do what they can — and, morally, what they must — to protect the nation's financial future, according to U. S. Rep. Paul Ryan.
That's the role in which would-be vice president and re-elected Wisconsin Congressman Ryan now casts his party, post-loss.
"If we're not going to fix (the national debt) now, then we need to try to buy the country time," Ryan told The Journal Times' editorial board Monday afternoon.
Budget remains priority
True to form, on Monday Ryan opened by distributing a stack of hand-outs, joking, "Wouldn't be me without a PowerPoint."
Graph by graph, Ryan outlined the beliefs he tried to impart during his vice presidential bid — spending is the problem, he said, and "the problem from a fiscal standpoint, from a debt-reducing standpoint are these mandatory programs, entitlement programs."
When it comes to fixing those problems his way, Ryan is realistic about his party's chances when Democrats again control the Senate and the White House, but said he still sees a moral imperative to counter Democrats' approach, which he casts as fiscally disastrous.
In a "Meet the Press" interview Sunday, Ryan made headlines by suggesting that the sequester was inevitable given Democrats' unwillingness to compromise. The sequester is a pack of automatic spending cuts set to take effect on March 1 if lawmakers don't act. They were originally set to take effect on Jan. 1 until Congress voted to delay them during fiscal cliff negotiations. Ryan stuck by the statement Monday, adding that he hopes the series of mandatory cuts to defense and domestic spending "adds to the need to solve our budget problems," acting as a wake-up call to those on the other side of the aisle.
On the issues
The Janesville Republican, whose 1st Congressional District includes all of Racine County, points to President Barack Obama's rhetoric of "political conquest over political compromise" as the continuing culprit in lawmakers' uphill battle for bipartisan solutions.
For example — some Democrats are willing to consider his ideas on tax reform and altering Medicare, Ryan said, but the president is not.
Democrats by and large either fail to see the national debt as a problem, or grossly underestimate its severity, he said, adding that he thinks the president falls in the latter category.
On the Affordable Care Act, Ryan repeated past assertions that the law will "collapse under its own weight," but not before substantially harming business owners and health care providers. On that issue, Ryan suspects the two sides will never see eye to eye.
Similarly, Ryan said he opposes assault weapon bans, but supports closing loopholes on background checks. Additionally, he said, the gun control debate doesn't account for deeper issues that give rise to gun violence — a cultural desensitization to violence, and failure to identify and treat mental illness early on. Societal issues like these may not be ones that Congress can easily solve, Ryan suggested.
Room for compromise
One area Ryan said is ripe for bipartisan reform is immigration, previously thorny territory that the congressman said creates an "artificial barrier" to Republican support.
"It's the best chance we've got for bipartisanship that works," Ryan said, noting his past support for Florida Sen. Marco Rubio's immigration proposals.
Finding a consensus on that issue will open the possibility to offer substantive alternatives on other issues, broadening Republicans' appeal and their chances to regain a majority in 2014, Ryan said.
"We have better ideas on the issues, and we need to showcase that," he said.
http://m.journaltimes.com/news/local/ryan-talks-republican-role-in-a-divided-government/article_8ca88cba-6995-11e2-989f-001a4bcf887a.html