Articles
Ryan talks budget, War on Poverty
By James Debilzen, Managing Editor for the Milton Courier
Rep. Paul Ryan spoke to a full-house crowd at The Gathering Place on Friday at the end of a week-long series of listening sessions throughout the 1st Congressional District.
Ryan, R-Janesville, spent much of his time talking about the federal budget, spending and debt and the need for tax reform before taking questions from the audience during the hour-and-15-minute session.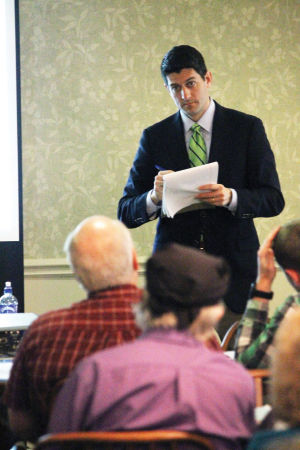 Michael Gouvion | Milton Courier
Congressman Paul Ryan, R-Janesville, takes notes while listening to a concern from a 1st District constituent at The Gathering Place.
Through a series of slides, Ryan painted a picture of out-of-control spending that will swallow up future economic growth and stability if federal debt is allowed to continue on an upward trend, as he said was predicted by the Congressional Budget Office. He said one of the reasons for growth in federal spending came from meeting the needs of Baby Boomers who are entering retirement. Meanwhile, the number of young adults entering the workforce is not keeping pace.
"It's the aging of America and the cost of healthcare" that causes deficits to climb, he said.
Ryan pushed for reforming the federal tax code, which has not seen an overhaul since 1986. Since then, more than 5,000 changes have been made to the tax code, opening up more loopholes.
As part of the reform, he pushed for lower tax rates on businesses and manufacturers, which he said are being taxed at a higher rate than foreign competitors. Ryan said the average tax rate on businesses in other countries is 25 percent, while the United States taxes between 35-40 percent. The congressman said he believed the amount of revenue lost from lower tax rates would be made up by closing loopholes in the tax code.
In addition, the federal government could do more to help train workers for new careers and address the "skills gap." Ryan said he wanted to create vouchers to send workers back to school for training and to "emphasize the notion of lifelong learning."
"We have a 20th century job training program … in a 21st century where people change jobs," he said.
He proposed balancing the budget and locking in a payment plan on the country's existing debt, paying off the debt over a period of time, much like a mortgage on a home.
"You can't tax your way out of this problem," Ryan said. "… This is fixable. We can turn the corner on this."
The discussion became heated when a member of the audience accused Ryan and the Republican majority in the House of Representatives of not doing enough or caring about the poor. The dissenter challenged the current approach to the War on Poverty.
"We're not going to have a good, adult debate on these issues if we keep impugning people's motives and if we keep calling people names and throwing baseless charges at one another," Ryan retorted. "I'm actually very proud of the work I've been doing on poverty in the past year and earlier in my life."
Ryan acknowledged the country has seen the highest poverty rate in a generation with 46 million Americans living in poverty. He said the federal government needed to base the success of anti-poverty programs on outcomes instead of the amount of money spent and to "sever the root" of what causes poverty instead of treating symptoms.
"Every person's place in poverty is not exactly the same," Ryan said. "… This is how you fight poverty, a person at a time. You customize it.
"… If we can all acknowledge that what we're doing right now isn't working, then why don't we open our minds to maybe some new approaches and new ideas and see if we can fix this problem together in this country?" he added.
http://www.hngnews.com/milton_courier/news/government/article_8c17bafc-b4f1-11e3-bd26-0017a43b2370.html