Articles
Paul Ryan, Racine police chief speak in support of new Caledonia church
By KRISTEN ZAMBO, Racine Journal Times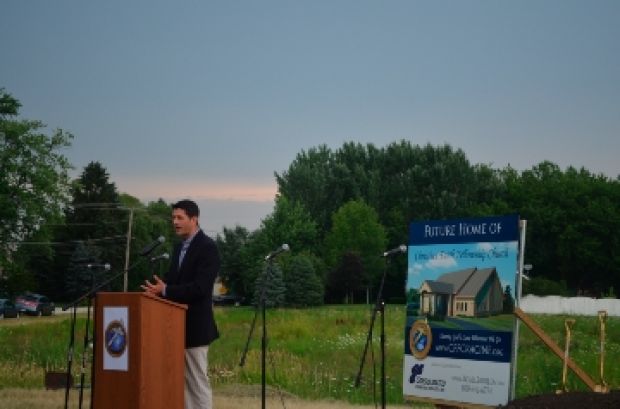 CALEDONIA — As dark thunder clouds rapidly swept through the region, lightening cut across the afternoon sky over a straw-covered field that soon will be home to Christian Faith Fellowship Church.
With thunder sounding in the distance, and bolts of stark-white lightening streaking through the air, U.S. Rep. Paul Ryan stepped up to the microphone Sunday to celebrate the start of church construction on about 12 acres along Nicholson Road.
"Look what we have now: 12 acres of beautiful prairie land are about to be 12 acres of souls being saved," the congressman said. "Each of us is a tool of God — one way or another."
Ryan was one of the invited guests who spoke Sunday afternoon during the ground-breaking ceremony for Christian Faith Fellowship Church, at 3303 Nicholson Road.
The congregation has been meeting at various sites in Racine, but members have spent years trying to obtain a loan, buy land and begin construction on the building to house their church.
Speaking with reporters before the groundbreaking festivities — which were abbreviated as thunderstorms quickly rolled into the area — Ryan said he wanted to attend the event because of his friendship with church founder the Rev. Willie Scott.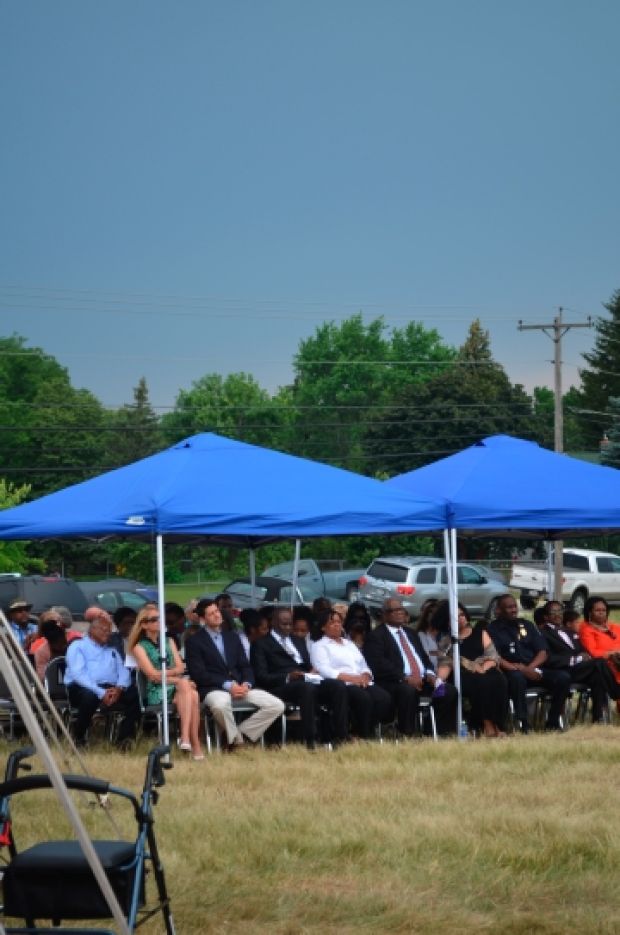 "It's great to see this new church being built and I wanted to lend my support," Ryan said. "Willie and I have been friends for a long, long time. He's one of our gifts.
"I knew he was going to succeed. He is a true man of God," Ryan said. "I'm home for the weekend. I just wanted to come over here and wish Willie well."
Ryan was the Republican nominee for vice president during last year's Nov. 6 election, but was defeated. However, he simultaneously was re-elected to his congressional seat.
According to Consolidated Construction Co. Inc., the first phase of construction will create a building accommodating 295 people. This first phase of the multi-phase project currently is slated for completion in November, according to the company. The master plan includes later construction of both larger worship and meeting spaces, plus recreational areas.
"We got turned down (for a loan) so many times we felt like chopped meat," Scott told the crowd of about 100 people, most gathered beneath blue tents in the field. "We have been so blessed. We have moved from building to building to building."
He thanked his congregation for pulling together, saying the members were the reason he and his wife, co-Pastor Patricia, were standing in that field waiting to break ground on Christian Faith Fellowship's own church.
"You can't do nothing without God," he said, beaming.
Racine Police Chief Art Howell said his congregation built a church a handful of years ago, and he remembers the extent of resources the endeavor took.
"God bless you for the work that you have done, and the work that you will do," Howell said.
http://journaltimes.com/news/local/article_2bbdf612-f273-11e2-ba70-001a4bcf887a.html