Articles
Ryan makes good on a promise to students
Pays visit to Burlington parochial school
By Lindsay Bullock, Racine Journal Times
BURLINGTON — When October's government shutdown postponed a Washington, D.C., class trip for St. Mary's Grade School students, Principal Loretta Jackson let U.S. Rep. Paul Ryan's office know how disappointed the kids felt.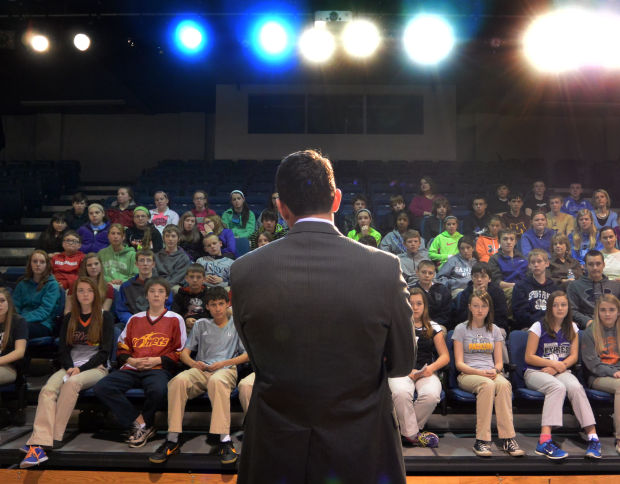 Gregory Shaver | Racine Journal Times
U.S. Rep. Paul Ryan (R-Janesville) answers questions from the students Monday, March 31, 2014, at St. Mary's Grade School in Burlington. Ryan came to talk to the students from St. Mary's and St. Charles Borromeo School, after the student's trip to Washington. D.C., was delayed by the government shutdown this past fall.
To make up for it, Ryan's staffers said perhaps the congressman could come visit the school sometime.
Since then, the students have gone on the trip — which was rescheduled for mid-November, after the shutdown ended Oct. 17 — and Ryan, R-Wis., has made good on his staffers' offer. He visited the Burlington school on Monday afternoon, taking an hour out of his day talk with students in an assembly. He told them about his job and his own class trip to Washington as an eighth-grader.
"That to me was a very profound moment in my life," Ryan said from a stage at St. Mary's, 225 W. State St. He explained he was moved on that trip by what he learned about America's founders and their ideals. "You can see their inscriptions on the walls; (they) basically created America on an idea. It's a very unique idea. It's an idea that basically said that we as people are unique and sovereign."
Ryan told the students he works to preserve that idea "so this legacy is passed on to you."
Ryan, ever the budget wonk, also told the students he works to make sure that legacy doesn't get passed along with trillions in national debt. He said he is introducing a budget in committee, likely today, to balance the government's pocketbook and pay off debt, "so your generation doesn't inherit my generation's debt."
"Your generation will inherit a lower standard of living, a real mess, if we don't fix this in my generation," he said. "I'm trying to get government to face up to this and tackle this before it really gets out of control."
Ryan, whose 1st Congressional District includes Racine County, spoke to about 100 middle-school-age students from St. Mary's and St. Charles Borromeo School, which is also located in Burlington. (Eighth-graders from those two schools plus St. Thomas Aquinas Parish School in Waterford go on the Washington trip together annually.) St. Mary's eighth-grader Emma Constabileo was among those who listened to the congressman.
"I'm really grateful (he came)," she said afterward, watching Ryan leave. "He taught us new things and I was surprised at how much I learned."
---
RYAN WEIGHS IN ON CURRENT ISSUES
On Russia's invasion of Crimea
"They did this because they thought they could get away with it," Ryan said. "They so far have gotten away with it. And I think Russia is to blame for invading Ukraine but I do believe that moves we made leading up to it (like limiting missile defense and 'resetting' relations with Russia after the country invaded Georgia) probably improved their thinking that they could get away with it. And so I think we should have a different policy with respect to Russia that's a little more sober, a little more honest with what we should expect from Russia. And I think we need to make sure we can bring consequences to bear. We should sell our oil and gas to Europe so they're not so dependent on Russian oil and gas. We should start our missile defense back up."
On running for president
"That's a 2015 question," Ryan said. "This is 2014."
He also said he was not at the Republican Jewish Coalition's annual spring gathering on Saturday in Las Vegas, where potential GOP presidential candidates courted powerful Jewish donors. Wisconsin Gov. Scott Walker, New Jersey Gov. Chris Christie and Ohio Gov. John Kasich stoked speculation over their White House intentions by delivering high-profile speeches at the gathering.
"I don't know anything about it," Ryan said.
The Associated Press contributed to this report.
http://journaltimes.com/news/local/ryan-makes-good-on-a-promise-to-students/article_c381433a-b994-11e3-8beb-001a4bcf887a.html