Articles
Michalia Swanson wins second Congressional art award
Racine Lutheran High School student Michalia Swanson is congratulated by U.S. Congressman Paul Ryan for her winning artwork "Our Nation's Future."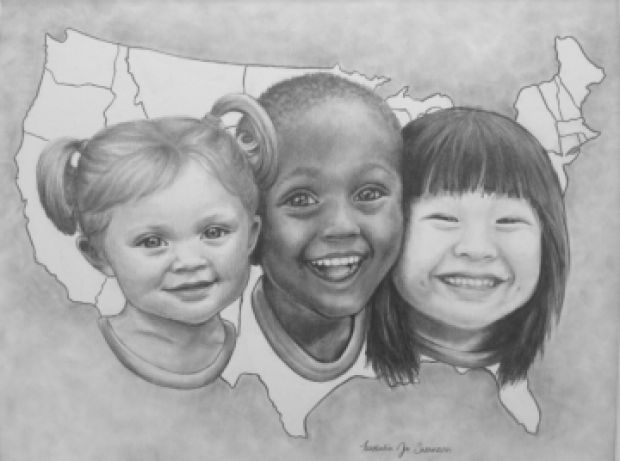 JANESVILLE — During an awards ceremony at the Olde Towne Mall in Janesville on April 12, First District Congressman Paul Ryan announced that the winner of this year's First District Congressional Art Competition is Michalia Swanson. A junior at Racine Lutheran High School, she is an unprecedented second-time winner of this competition.
Swanson submitted a pencil drawing titled "Our Nation's Future," which depicts the faces of young Americans against a backdrop of the United States. Her art teacher at Racine Lutheran High School is Debra DeKeuster.
In announcing the results of the annual competition, Congressman Ryan said, "We've been holding this contest for 16 years, and we've never had a repeat winner until now. Michalia truly is a gifted artist, and millions of people will get to see her work in the U.S. Capitol this year."
Last year, Swanson submitted a portrait titled "Hero in My Eyes," which depicted her uncle, Benjamin, standing in front of an American flag, as a way of honoring his service to our country during Operation Iraqi Freedom.
Swanson provided this motivation for drawing "Our Nation's Future:" This piece represents the future of our country because our nation's future rests in the hands of every child growing up in America. Many adults today are concerned for the quality of the younger generation, but when I look around at my friends, sisters and little cousins, I see unlimited potential. I see their kindness, honesty, perseverance, strong work ethic and the ability to lead our country in the direction our forefathers created it to be. I chose to draw three children of different ethnicities to represent the many different races and cultures that make up America. I chose to include myself as a child (at left) because I am proud to be a part of my nation's future.
Swanson and a family member will fly to Washington, D.C., for a June 26 ribbon-cutting ceremony. Her artwork will be on display in the U.S. Capitol for one year. Swanson has also been awarded a second $12,000 scholarship at the prestigious Savannah School of Art and Design.
DeKeuster notes, "Michalia is extremely focused on her art and sets very high standards for herself. Her dedication, patience, talent and huge investment of time to achieve beautiful and outstanding results are clearly displayed in her art. She understands what it takes to create a masterpiece. I cannot believe how humble and modest she is about receiving this award for the second time!"
Racine Lutheran High School principal and executive director David Burgess adds, "The staff at Racine Lutheran is incredibly proud of Michalia and all our students who grow to achieve their highest potential in the Fine Arts program as well as the classroom."
http://journaltimes.com/news/local/education/michalia-swanson-wins-second-congressional-art-award/article_4ebb4c18-cf14-11e3-bfa1-001a4bcf887a.html